ACADEMIC EVENTS & PROGRAMS
Many of the things you learn and the people you meet in Aggieland involve activities in your residential community.
Here are some of the academic initiative events and programs that occur regularly in our on-campus residences.
Academic Peer Mentors (APMs) help other students succeed academically. Certified by the College Reading & Learning Association, the Academic Peer Mentor program extensively trains its student mentors and offers a variety of academic programs and events:
Academic Check-Ups – Academic Check-Ups are regular meetings where a student receives personalized, one-on-one academic coaching from an APM. Meeting with an APM helps you stay on track, transition successfully, and meet your goals over the course of the semester. Register today!
Office Hours – The APM Offices are located in Hullabaloo 125 and Commons 102.  Students can visit the offices to discuss general academic issues with APMs or to learn more information about the program. No appointment or scheduling necessary.  Questions? Call the Hullaballoo office at 979.458.5466. or our Commons office at 979.458.5068.
Spring 2022 Office Hours
Sunday- Wednesday: 12 p.m. – 8 p.m.
Thursday: 12 p.m.- 6 p.m.
Friday: 12 p.m. – 5 p.m.
REVTalk – REVTalks are events where students can learn about academic topics from a panel of upperclassmen and/or faculty and staff. Past panels have focused on studying abroad, test preparation, overcoming academic probation, research and more. Follow @tamu_apm for RevTalk updates, locations, and times.
Request a Collaborative Program – The APMs are available to co-program with RAs to offer a program in their curriculum and teach residents about different topics of academics. Click HERE (hyper link: https://tamu.qualtrics.com/jfe/form/SV_1zcECGlY80sl1MV) to request a Collaborative Program.
Dinner with a Prof is a monthly event in which on-campus residents have the opportunity to engage in dialogue with faculty, outside of the classroom. Set in front of the fireplace in Hullabaloo Hall on the first Tuesday of the month during the academic year, faculty are invited to share their field of study, their personal journey, or life advice through engaging conversation with students. Students who attend enjoy a delicious meal, meet other students, and learn that faculty members are real people, too, who can and want to be approached! Watch your TAMU email for monthly invitations, or visit our 
Event Registration System
to see the upcoming month's event.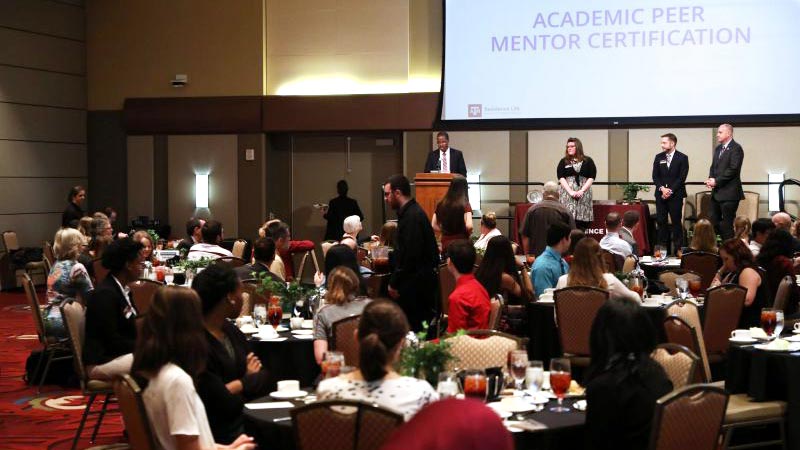 Honoring Excellence is a formal ceremony in which Texas A&M University students are given the opportunity to nominate faculty and staff members for awards and recognizes on-campus students who have demonstrated academic and leadership excellence, including those who achieve Distinguished Student status (Student Rule 11).
Visit the award ceremony's page for more details.
Employment opportunities for students are plentiful in the Department of Residence Life.
In addition to offering numerous full-time and professional positions, the department is one of the largest employers of students. On-campus employment offers the convenience of working for employers who are flexible with students' class schedules, walking between work and class, and, (in many areas) the same vacations as the University (winter break, spring break, summer, etc.).
Study Spectacular occurs at the end of each semester from 8am on Reading Day through 5:00pm on the last day of finals. Large meeting rooms are open 24/7 during this time frame in order to provide our on-campus residents with a quiet environment that is conducive to their studying. Some rooms that are opened include the Multipurpose Rooms in Hullabaloo Hall, the Commons, the White Creek Activity Center, and the White Creek Community Center, as well as the Gardens CLC (Community Learning Center). Free coffee and snacks are provided throughout the event to keep you fueled for finals. Students from Engineering Honors will be available in some locations to provide moral support, assistance, and upperclass guidance! Residential Tutors will be available in Hullabaloo 105 on the evening of Reading Day.
Please refer to our Calendar for specific dates.
Locations:
Hullabaloo Hall
Hullabaloo Multipurpose Room (Room 117)
Hullabaloo 105
The Commons
Commons Multipurpose Room (Room 109)
White Creek Apartments
White Creek Apartments Activity Center Multipurpose Room
White Creek Community Center Multipurpose Room (Room 116)
Gardens Apartments