AMENITIES
Living on campus is so much more than a convenient place to sleep at night. Enjoy amazing Amenities and Services that you won't find living off campus.
GAME ROOMS
There are four Gamerooms located conveniently in each residential housing area. Take a much needed study break with games like ping pong, billiards, gaming stations. Hangout with friends, study, watch TV. You can even check out games to take outside like spikeball and Connect-4. Locations & Hoursgame room location and hours
OUTDOOR RECREATION CENTERS
Get some fresh air, fun, and exercise playing basketball, volleyball, gaga ball, or relax while hammocking. The Hullabaloo Hangout Room even has spike ball and Connect-4 available to check out and play outside. Picnic areas and grills are also available. Locations & HoursOutdoor recreation center hours and location
LAUNDRY FACILITIES
All on-campus residents have access to high efficiency front-loading washers and dryers. Residents of the residence halls and Corps halls have washers and dryers in their hall. No cash or coins are needed as the laundry cost is included in the rent. Residents in White Creek Apartments have a washer and dryer in their apartment. Learn more laundry facilities location
MAILING AND SHIPPING
Our on-campus housing students can receive mail via their University Apartments provided mailbox or rent a Post Office Box. Residence hall and Corps residents may rent mailboxes from Student Mail Services or the U.S. Post Office. Apartment's residents have centralized mailboxes available at no additional cost. Learn more mailing and shipping information
COMMUNITY KITCHENS
We offer gorgeous community kitchen spaces for our residents.This varies per hall type/style, but all community kitchens contain the following:
Refrigerator
Range/Oven
Vent Hood
Microwave
Kitchen Sink
Area to sit/study/gather/eat
RECYCLING
We have over 100 recycling bins in the residence halls so that all students have the opportunity to recycle and protect the environment. Funding for the bins come from various projects like the Aggie Green Fund and the Keep America Beautiful campaign. Recycling Locationsrecycling location
INTERNET & CABLE TV
We provide cable television service to our on-campus residents. Learn more about Television service. Each residence hall or apartment room has two high-speed network connections to ResNet. In addition to the wired connections in each room, wireless connectivity is available in all of the residential facilities and in outdoor locations directly adjacent to some of the halls. | More infointernet and cable TV information
LIVE-IN RESIDENTIAL STAFF
Over 180 graduate and undergraduate staff live and work in our residential buildings, fostering community among residents through programming, mentoring, advising, and friendship.
UNIVERSITY POLICE SECURITY PATROL
In addition to the staff living in the buildings, the University Police Department has employed over 100 certified Police Officers and Security Officers to work on campus. Security Officers are paid by Residence Life to patrol the areas outside the residence halls and University Apartments every day watching for suspicious activities, propped doors and open/broken windows.
CONVENIENT DINING OPTIONS
On-campus residents enjoy the convenience of numerous dining options managed and provided separately by Aggie Dining - Chartwells. There are Starbucks cafes located at Hullabaloo Hall and the Corps Quad. Aggie Express offers convenient food options in our residential communities too.
ACADEMIC SUCCESS
We are committed to your academic success. Residence Life, in collaboration with the Student Success Center, offers tutoring in various academic subjects. We also offer numerous academic programs and services throughout the year. | More infoacademic programs information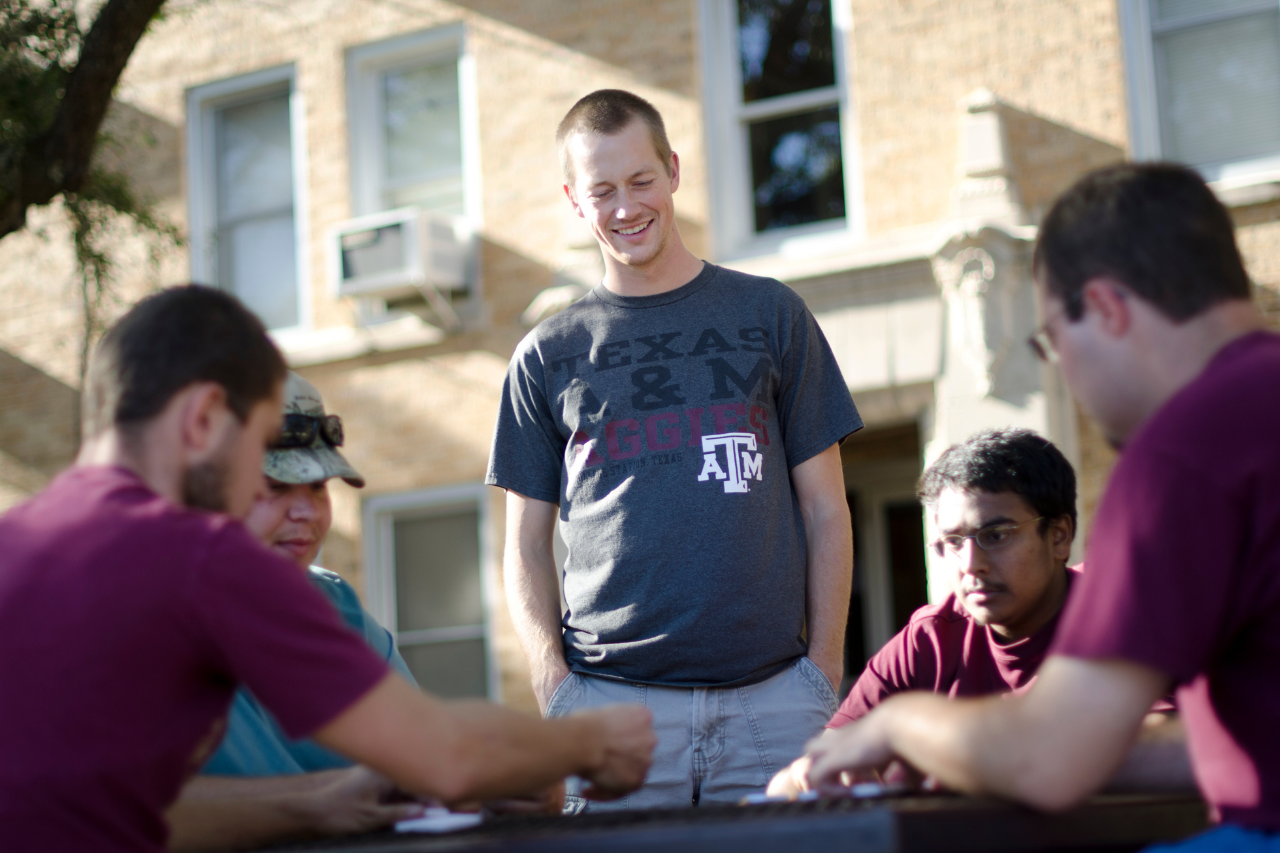 TV LOUNGE/PROGRAMMING SPACE
All of our residential facilities, excluding the Corps of Cadets, have dedicated TV lounges and programming spaces. These spaces offer space to conduct our social and educational programs and can be used by residents who want to watch movies, play games, or get together with other residents and friends.
ADDITIONAL SERVICES
The following services are important components of your on-campus living experience but are managed outside the Department of Residence Life.