ACADEMIC SUPPORT
We offer programs, professional staff, facilities, and learning environments that contribute to student learning and success. Our mission is to provide these programs and services to enhance the academic experience and pursuits of on-campus Aggies that you will not find living off campus.
Academic Programs
Many of the things you learn and the people you meet in Aggieland involve activities in your residential community.
Academic Events
Explore some of the academic initiative events that occur regularly in our on-campus residences.
Academic Spaces
We offer a variety of spaces to support academic success on-campus. Search the various types of spaces available in our residential communities.
Community Learning Centers
Community Learning Centers (CLC) are a hub of academic support. With locations in each of our residential neighborhoods, each CLC offers individual and group study space and an open access computer lab with printers. CLCs are a quiet place to study and work on group projects. | Locations and Hours
Study Rooms
Many residence halls and our apartment communities have areas specifically designated for studying. A quiet environment is observed there at all times.
Classrooms / Multipurpose Rooms
Our multipurpose rooms have accommodated classes, student organization meetings, departmental functions, trainings, banquets and more. These rooms have re-arrangeable furniture, technology (including microphones, loud speakers, white boards, and more), and are eligible for reservation requests.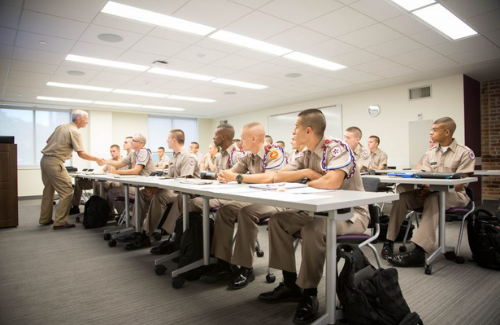 Leadership Learning Center
Leadership Learning Centers are academic support facilities for the Texas A&M Corps of Cadets. These centers surround the Corps of Cadets quad and offer computer labs, study spaces, tutoring rooms, and other academic support services.
Campus Collaborators
Residence Life knows the benefit of collaboration. We have a long history of collaborating with academic departments, colleges, and other units to create transformational experiences for students. Learn more.