December 2019
Volume 3, Issue 3
Sustainable Holidays and Breaks
---
Finals will soon be over and then it is off to a month of rest and relaxation! This month's sustainability newsletter focuses on ways that you can be more sustainable throughout the upcoming holiday season. There are dozens of holidays in the months of December and January that involve any combination of eating, gathering with loved ones, and exchanging gifts.
Hosting Parties
This time of year provides us to gather with family and friends, combining good company with good food. At the same time, all the holiday spirit can result in a lot of waste.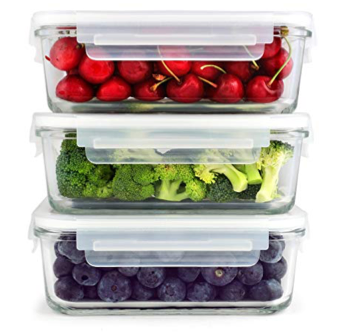 Purchase in-season ingredients – winter fruits & vegetables include kale, oranges, broccoli, and carrots
You always want to make sure you have enough food to feed your guests, but be careful not to cook too much. Parties can result in a lot of food waste if you are not careful. There are useful charts online that can help you estimate how much food you need without overdoing it.

Did you cook too much? Tell guests to bring reusable to-go containers so you limit the food wasted and allow everyone to have enough for lunch or dinner the next day. Bonus points if those containers are made of glass instead of plastic!

Utilize reusable dinnerware and utensils to reduce the amount of waste generated from single-use plastics and Styrofoam.
Opt for cloth napkins that can be washed and reused. Want to go the extra mile? Make sure the napkins are made from 100% natural fibers like cotton!
Wrapping Gifts
Several holidays involve the exchanging of gifts. However, did you know that the majority of commercial wrapping paper cannot be recycled? Look for ways that you can package items in a sustainable way.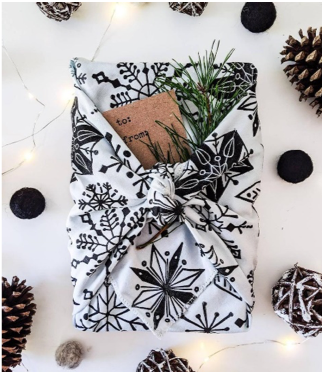 Learn about Japan's furoshiki method of wrapping gifts which involves artfully tying a piece of fabric around a gift. The fabric can range in size and shape and is useful when wrapping oddly shaped items.
Is your gift a food items you made like cookies? Take advantage of mason jars that not only protect your food item, but can also be reused by the person you are giving it to!
A fan of printed media like newspapers? Reuse them as wrapping paper! The comics section can be especially fun to use. You can also use old paper notes from your classes this semester.
Are you the type of person to save cards you have received in the past? Take them out of that desk drawer and use them to create tags for gifts. Simply cut out a portion of the card, whether it has snowflakes or spruce trees, punch a hole in it, and then loop a small piece of ribbon or twine to create a one-of-a-kind gift tag!
Bags are one of the easiest ways to give a gift. Rather than using a holiday bag that will be tossed out or sit in a drawer, put the gift in a reusable grocery bag.
Traveling
Whether traveling locally or internationally, there are several ways you can reduce your carbon footprint and impact on the planet.
Staying overnight? Rather than using large hotel chains, stay at locally-owned accommodations like Bed and Breakfasts. Putting your money into the local economy whenever possible is always the best option.
Are you flying or taking a long road trip? You can purchase carbon offsets* to mitigate your carbon footprint! These can be purchased before or after your travel and fund projects aimed at reducing greenhouse gas emissions.

Speaking of flying, can you fly directly to your destination without any layovers? Choose direct flights when possible as the takeoff and landing of airplanes is the cause of most of the plane's carbon emissions.

Consider carpooling if you will be traveling with multiple people to reduce not only the wear and tear on your car, but also reduce the carbon emissions you but put into the atmosphere.
Is your destination a place that is walkable like a big city? Opt to travel by foot or other modes of transportation like bikes if at all possible. The slower pace will allow you to take in the environment around you and see things you might have missed if traveling by car or bus.
What ways are you sustainable during the holidays?
Let us know about your sustainable holiday traditions - old or new - by sending an email to sustainability@reslife.tamu.edu!
Contact ResLife Sustainability
Email: sustainability@reslife.tamu.edu
Instagram: Texas A&M Residence Life
Facebook: Aggies Going Green
Twitter: @TAMUResLife
Webpage: reslife.tamu.edu/living/sustainability
*Carbon offset = an action intended to compensate for the emission of carbon dioxide into the atmosphere as a result of industrial or other human activity, especially when quantified and traded as part of a commercial program.