January 2020
Volume 3, Issue 4
Sustainable Spring Semester
---
Howdy Aggies! We hope you have had a restful and relaxing winter break. In just a few short weeks, the spring semester will begin which means new courses, new schedules, and new experiences to look forward to. Start the semester off on the right foot by incorporating new sustainable behaviors. Below you will find different actions you can take during the new semester that will help you lead a more sustainable life.
Academics
School Shopping

Pay attention to what you really need to purchase for the semester. Do you have extra notebooks you didn't use in that fall that you could use this semester?
Need to buy books for your new classes? Consider buying them secondhand, borrowing them from a friend, or buying an electronic version. You will save money and resources!
Are there any supplies that you know your go through a lot of through the course of the semester, like pens or pencils? Buy in bulk whenever possible to not only reduce the cost to you, put also the amount of packaging that you consume.

Studying

Reduce the amount of paper you use by taking notes electronically if you have a laptop or tablet. You can apply this same principle to any articles you need to read by downloading and editing a PDF version rather than printing it out.
Is your learning style more conducive to use paper for notetaking and studying? No problem! Just be sure to use both sides of the paper or use scrap paper whenever possible. And don't forget to recycle your notes when you no longer need them!
Are you a fan of using flashcards? Opt for online flashcard platforms like Quizlet to create electronic flashcards rather than using paper. If you prefer to use paper flashcards, opt for ones that contain recycled content.

Transportation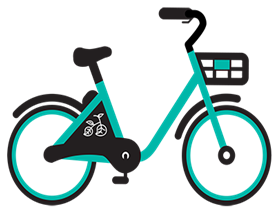 Utilize TAMU's VeoRide bike share program to get around. Download the app to unlock the teal bikes and pay just 50 cents per 30 minutes of ride time!
Nice day outside? Enjoy the weather by walking to and from class. It is also an easy way to get some exercise when you're not busy studying or doing schoolwork.
Need to get across campus, but it's too far to walk or bike? Take advantage of the Aggie Spirit Bus to get you where you need to go. With routes both on and off campus, the bus is an effective way to get around.
Recycle
Whether on-campus or off, you can recycle pretty much anything at Texas A&M! From plastic bottles and aluminum to glass, learn more about what and where to recycle below!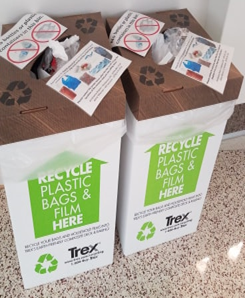 Electronic Waste (E-waste – batteries, cords, etc.) – More Information
Plastic film (grocery bags, bubble wrap, Ziploc bags, etc.) – More Information
Glass – Utility & Energy Services has a recycling center on west campus near the School of Public Health located on Adriance Lab Road
A Plastic, Aluminum, & Paper – Texas A&M standard recycling containers allow you to recycle these 3 common items everywhere on campus