GREEN DORM CERTIFICATION
Howdy and Welcome to the Department of Residence Life's Green Dorm Certification!
Please help us make sustainability an Aggie tradition by getting your room Green Dorm Certified. The certification process is simple. The survey below will cover demographic questions, items in your room, and behaviors you engage in while living on-campus that are sustainable. The Sustainability Coordinator will reach out to you later to give you your badge to put on your door.
If you would like to review the survey items before submitting your certification request, you may view them here
If you have any questions, comments, or concerns, please email sustainability@reslife.tamu.edu.
Overview of Certification Items

General Items/Products

18 points

Energy Behaviors

11 points

Water Behaviors

5 points

Waste Behaviors

11 points

Transportation Behaviors

4 points

Purchasing Behaviors

7 points

Academic/Tech Behaviors

5 points

Involvement Behaviors

15 points

Total Points Available

76 points
Certification Levels

Level Number
Symbol
Point Range
1
Acorn
1-30
2
Sapling
31-51
3
Post Oak
52-76

Copies of certification badges are shown below.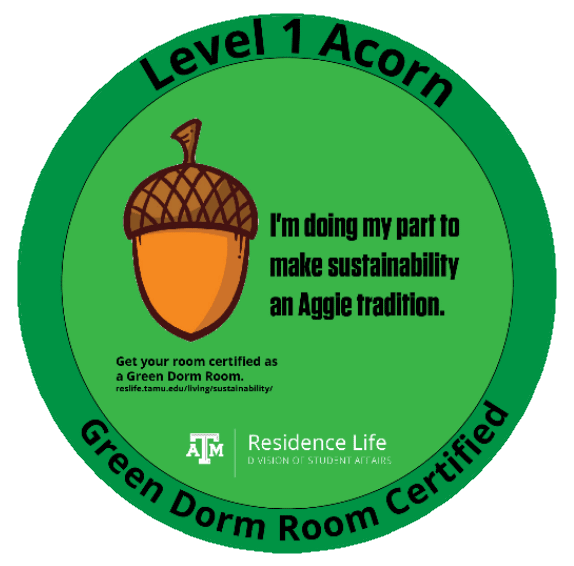 Level 1 Acorn
Green Dorm Room Certified
Level 2 Sapling
Green Dorm Room Certified
Level 3 Post Oak
Green Dorm Room Certified